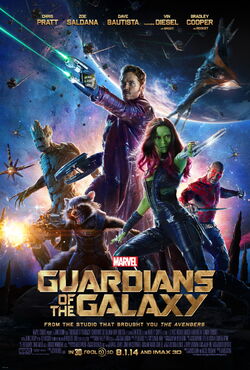 Greetings, Guardians of the Galaxy fans!

As the premiere date rapidly approaches, we're wondering what your thoughts are on the film project in general. Please take a moment to vote on the polls below, and feel free to let us know what you think in the comments below. After we've gathered all your answers, we'll combine them into an info-graphic so you can see how your opinions break down vs. your fellow fans! Thank you in advance for participating! :)
What do you think of the film's comedic tone?
Which character would you like to see make a cameo appearance?
What's the coolest looking thing in the Guardians movie that you've seen so far?
---
---
Ad blocker interference detected!
Wikia is a free-to-use site that makes money from advertising. We have a modified experience for viewers using ad blockers

Wikia is not accessible if you've made further modifications. Remove the custom ad blocker rule(s) and the page will load as expected.