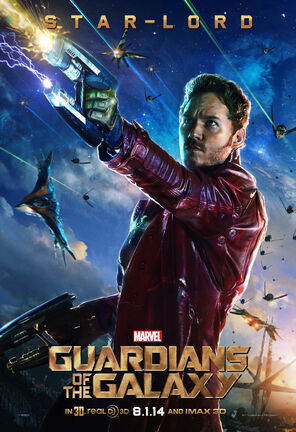 Peter Jason Quill a.k.a Star-Lord is the leader of the Guardians of the Galaxy. He was portrayed by Chris Pratt.
Appearance
He is a tall, lean guy with light brown hair and always wears a red jacket with green gloves.
Weapons
Two Kree sub-machine guns
Personal Information
He was born on Earth and his parents are Mr. and Mrs. Quill. Peter was a half human and half alien (a species that was a long time secret). His mother was human and his father wasn't. His father's powers are extremely similar as to Peter's powers, too. His father's status was unknown but his mother died in 1988 with the cause of suffering cancer.
He was raised by a ravager named Yondu until 26 years after his mother's death, when he was taken.
Transportation
Star-Lord owns a ship named the Milano. James Gunn publicly spoke on the name of the ship and has stated on twitter "For those of you who asked, yes, Quill's ship The Milano is named after his awesome childhood crush Alyssa Milano."
Quotes
"We're the Guardians of the Galaxy".