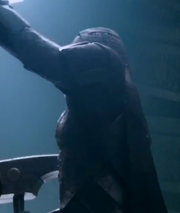 Ronan is an admiral of Thanos. He is also the general of the Kree. In the movie, he is played by Lee Pace. He is currently deceased due to getting killed by the Guardians of the Galaxy. He wields the Kree universal weapon, a large hammer that could blast powerful Kree energy.
Ad blocker interference detected!
Wikia is a free-to-use site that makes money from advertising. We have a modified experience for viewers using ad blockers

Wikia is not accessible if you've made further modifications. Remove the custom ad blocker rule(s) and the page will load as expected.